The Small Animal Department of Capontree Vets takes pride in the care and attention we give to the pets under our care. And you, the owner. We are all passionate about animals and know that your pet is an important member of the family. We have three surgeries:-
Brampton and Longtown are the two main sites with a full set of facilities at each. Our branch at Haltwhistle is equipped to perform minor surgical and medical procedures. We also consult once a week, by appointment only, at Newcastleton.
Our team of dedicated small animal vets, nurses, both qualified and training as well as our reception staff are all here to look after all the needs of your pets; from advice on the care of your new companion through to high quality professional treatment should they fall ill.
What do all those qualifications the vets and nurse have mean? I don't really understand? Click here to find out more.
We treat all types of small animals – from Dogs and cats to fish guinea pigs, hamsters, fish and reptiles.
Out of hours - We have our own dedicated vets to cover out of hours work ensuring peace of mind at any time of the day or night.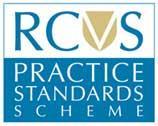 As a quality assurance stamp – we have voluntarily joined the Royal College Practice Standards scheme. This involves complying with standards as set out by the RCVS and facilitating spot inspections as and when they occur. To date we have had two official inspections and two spot checks. Thankfully we have passed all inspections with flying colours. Click here to find out more.