Internal Medicine encompasses quite a wide range of areas. This includes gastro-intestinal and liver diseases, hormonal conditions, genito-urinary problems, blood disorders, cardio-respiratory medicine, nutrition, infectious diseases and intensive/emergency care.
Medicine puts together the 'clues' to establish what your animal is suffering from and how best we can treat it. It also uses this information to let you know the prognosis of a condition i.e. how serious it is and what is likely to be the outcome.
Along with listening to the history of your animal's condition and carefully examining them we use a lot of tools to help us. This may involve specialists from other areas (e.g. cardiology, ophthalmology) but commonly involves blood testing, x-rays, ultrasound, endoscopy (fibre optic cameras) and various techniques for sampling body tissues all of which can be carried out at Capontree Vets Common investigations are:
Respiratory medicine including investigation of nasal discharge, cough, dyspnoea and exercise intolerance
Gastroenterology including investigation of chronic vomiting and diarrhoea
Hepatic disorders including hepatitis and portosystemic shunts
Endocrinology
Urinary tract disease
Infectious diseases
Haemolymphatic diseases including anaemia and thrombocytopenia
Immune mediated diseases
Oncology including treatment of lymphoma and leukaemia
Emergency medical cases requiring intensive care
Like most areas of veterinary practice, developments are occurring continuously in medicine and it is very important to keep up to date. This means new or better ways to treat your animal are always emerging to enable us to the best possible standard of care.
It can often be the case than an individual patient is both a medical patient and surgical patient at the same time. These situations can be extremely involved and complex situations to deal with.
When we are dealing with such a variety and complexity of conditions it is vital we have the full range of diagnostic facilities to hand. (See facilities)
The practice has successfully treated extremely ill animals including cases of parvovirus, toxin ingestion and hepatitis.
More common illnesses treated include diabetes, hyper-/hypo- adrenocorticism, hypo-/hyper-thyroidism and pancreatitis.
The picture below shows a dog suffering from overactive adrenal glands (hyper-adrenocorticism).  This condition causes excessive drinking and urination as well as significant hair thinning in extreme cases.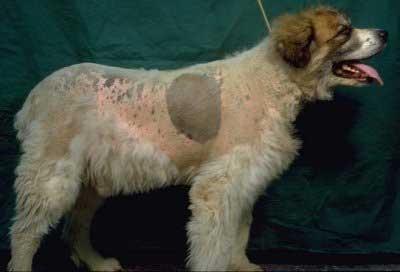 We perform chemotherapy on some cases of cancers such as lymphoma.
On occasions we need to administer blood transfusions.  We have access to frozen canine red blood cells and plasma but sometimes we need to take fresh blood from cat and dog donors.
We commonly measure blood pressure in our patients as high blood pressure can cause serious problems such as strokes and blindness especially in older cats. The early signs can be difficult to spot, and often this test is recommend after a routine annual health check. Treatment to control blood pressure can help prevent blindness developing. The process is very similar to that in people except we always use a special Doppler probe to detect the pulse either in your pet's limb or tail.